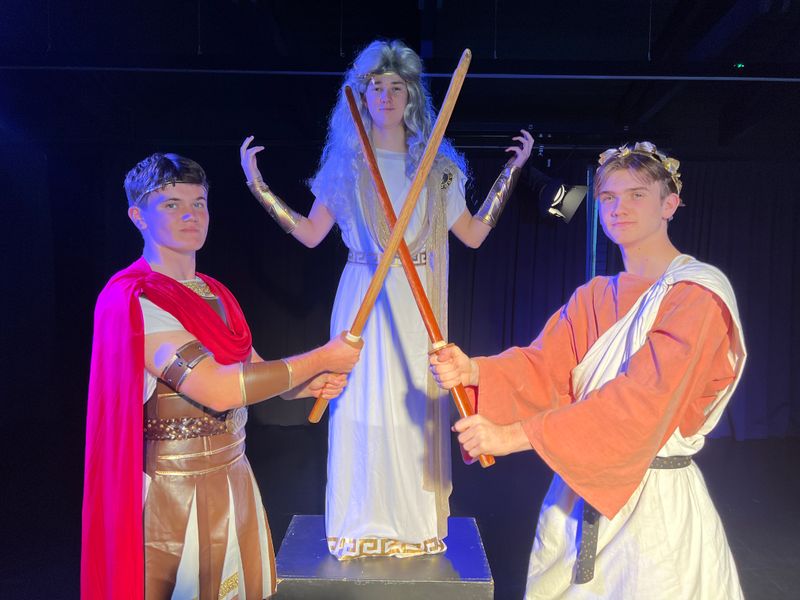 Toowoomba Grammar Acting Academy (TiGAA) performers are excited to take to the Empire Theatre stage to present a play written by one of our very own students. There are not many schools that can boast an entire production of this calibre being created solely by the students, and TGS is thrilled to support our talented young men and provide them with this opportunity.


Greek Mythology for Millennials has been a three-year project by Year 12 student, Gabriel Donaldson. The work was shortlisted in the top four of the 2021 Queensland Young Playwrights.
Greek Mythology for Millennials follows the journeys of three demigods; Hercules, Perseus and Jason and the Argonauts, as they set out on a quest to become the new 'God of Technology'. To be judged worthy they need to bring back an item from the modern world that speaks to their knowledge of technology, and present it to Zeus. Blending Grecian mythology with contemporary reference, our demigods learn as much about themselves as they do about the value of technology in the modern world.
Toowoomba Grammar School was recognised as the most successful drama school in Toowoomba at the recent Toowoomba Eisteddfod following outstanding results by our boys and it is only fitting that our talented young actors support our budding playwright and perform the premiere performance of this script.


The performance will be enhanced by the talents of another award-winning TGS Year 11 film student, Ben Rosenberg who will use his film-making abilities to integrate media into the production, bringing a very contemporary feel to the performance.
Ben has been liaising with Craig Wilskinson, from Opitkal Bloc, to further enhance his digital skills and content. Craig is considered one of Australia's leading digital content creators for theatrical productions, so this has been an incredible experience for Ben and the TGS drama team.
Greek Mythology for Millennials is at the Empire Theatre, Armitage Centre on Wednesday, 15 June 2022. Tickets can be purchased from the Empire Theatre box office. www.empiretheatre.com.au