Toowoomba Grammar School will be on tour again during 2023
During 2023 TGS will be on tour, visiting past and present families, catching up with Old Boys and meeting new families. These events are a wonderful opportunity to meet our staff and hear more about what is happening at TGS.
More details regarding events and venues will be available soon. For further information and to RSVP, please register via the link below.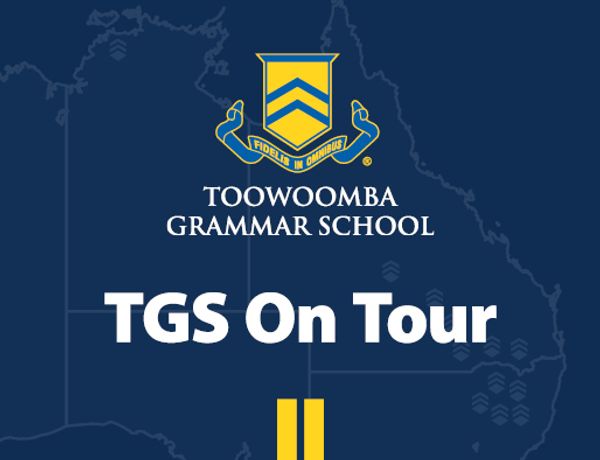 | Location | Date | Venue |
| --- | --- | --- |
| Term 1 | | |
| Pittsworth | Friday, 10 March | Pittsworth Show |
| Inverell | Friday, 10 March | 4:00pm to 6:30pm @ The Inverell Club, 1-3 Evans Street, Inverell |
| Darwin | Wednesday, 15 to Friday, 17 March | NT Cattlemen's Association Conference |
| Darwin | Thursday, 16 March | 6:30pm @ The Darwin Trailer Boat Club |
| Moree | Thursday, 16 March | 5:00pm to 6:30pm @ Moree Golf Club Outdoor BBQ area |
| Pallamallawa | Friday, 17 March | 10:00am @ Pallamallawa Pub |
| Warialda | Friday, 17 March | |
| Goondiwindi | Thursday, 16 March | 6:00pm to 8:00pm @ The Veranda, The Victoria Hotel Goondiwindi |
| Goondiwindi | Friday, 17 March | Goondiwindi Junior Rugby Golf Day |
| Toowoomba | Thursday, 30 March to Saturday, 1 April | Toowoomba Show |
| Term 2 | | |
| Goondiwindi | Saturday, 22 April | Goondiwindi Junior Rugby Carnival |
| Goondiwindi | Friday, 28 April | Goondiwindi Show |
| Taroom | Monday, 1 May & Tuesday, 2 May | Taroom Show & @ the Sponsors Marquee on Monday, 1 May 12:30pm to 1:30pm |
| Crows Nest | Saturday, 13 May | Crows Nest Show |
| Dulacca | Saturday, 27 May | 12:00pm @ The Dulacca Hotel - The Pink Pub |
| Julia Creek | Tuesday, 6 to Wednesday 7 June | ICPA Qld Conference & @ the Julia Creek Hotel on Tuesday, 6 June at 5:00pm |
| Toowoomba | Tuesday, 6 to Thursday, 8 June | FarmFest |
| Roma | Sunday, 18 June | The Royal on 99 @ 4:00pm to 6:00pm |
| Emerald | Thursday, 22 to Saturday 24 June | Ag-Grow |
| Banana | Monday, 26 June | Banana Hotel @ 6:00pm |
| Term 3 | | |
| Condamine | Saturday, 8 July | Condamine Hotel @ 6:00pm to 8:00pm |
| Narrabri | Friday, 21 to Saturday, 22 July | Boarding School Expo |
| Longreach | Friday, 28 July | Longreach Tavern @ 3:30pm onwards |
| Kingaroy | Wednesday, 2 August | The Carrollee Hotel @ 4:00pm |
| Mundubbera | Thursday, 3 August | 4:30pm @ The Royal Hotel Mundubbera |
| Brisbane | Tuesday, 8 August | Brisbane Ekka |
| Gunnedah | Tuesday, 22 to Thursday, 24 August | AgQuip Gunnedah |
| Tamworth | Wednesday, 23 August | Pig & Tinder @ 4:00pm to 6:00pm |
| Dalby | Wednesday, 30 August | Criterion Hotel Dalby - Courtyard Deck @ 4:00pm to 6:00pm |
| Term 4 | | |
| Tenterfield | postponed to 2024 | |
| Julia Creek | Friday, 13 October | Julia Creek Hotel @ 4:00pm to 6:00pm |